How to know if you should see a Greenville chiropractor.
We've all experienced lower back pain to one extent or another in our lives. And while it is quite uncomfortable and even incredibly painful sometimes, usually it isn't a cause for too much alarm. In most instances, it hurts for a while but then goes away on its own.
There are a few instances where back pain may warrant further investigation 1) the pain has persisted for at least six weeks, 2) it is not going away, or maybe even getting worse, and 3) home care (rest, stabilization, inflammation reduction measures) don't solve it.
If you still fear that your specific back pain may be cause for alarm, don't hesitate to consult a chiropractor. Our chiropractic physician is well trained to rule out medical concerns and treat most musculoskeletal back pain causes. Just know that while painful, most back pain is not ominous.
A poor ergonomic lifestyle can lead to neck pain, which in turn can cause headaches. From ice packs to a custom pillow, there is a lot you can do at home. If your neck pain persists, it is time to see a chiropractor.
Of all the ways your neck might be hurting, the condition to look out for is that it is persistent. You don't want to take any chances when it comes to your spine and neck. Whether you have trouble turning your head, have trouble getting through the day with the pain, or your stiffness does not improve, see a chiropractor.
Headaches can arise from many different causes. Most often, headaches are caused by muscle tension in the neck. Primary headaches are frequently the result of joint irritation and muscle tension, and a sedentary lifestyle with postural stress from phones and tablets does not help.
Through chiropractic assessment and spinal rehabilitation, a Greenville chiropractor can help alleviate the tension that builds in your head. These practices restore balance to your spine and posture. They take pressure off vital areas to your spine, and thus, reduce the pain in your head.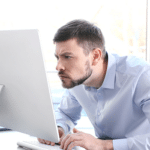 Repetitive activities or prolonged sitting can be very challenging to spine and joint health.  Repetitive tasks will often promote poor posture or an uneven utilization of muscle groups.
The best thing you can do in life is to keep moving. If you enjoy sports that require repetitive activities (golf) or work in an environment which promotes postural stress (computer work) your lifestyle requires that you see a chiropractor. A chiropractor will be able to give your body a "tune-up," much as a mechanic would your car. There is a lot you can do for yourself, but a chiropractic physician can diagnose and address the bigger issues.
Even an athletic lifestyle can lead to problems with muscles and joints. Constant physical training breaks down and builds up your muscles. This is the very essence of exercise. Occasionally, muscles never seem to build back up and the result is a chronic ache.
However, this is not exclusive to athletes or exercise. Joint pain may even be an early indicator of something more serious, such as an organic disease process best addressed by a medical professional. By nipping it in the bud and visiting a Greenville chiropractor, you will not only find a remedy for your pain but perhaps even a chance to rule out a more serious condition.
It can't hurt to implement a daily regimen of stretches and a healthy, joint-friendly diet. Joint pain itself isn't necessarily something to lose sleep over but if it becomes chronic, you should seek professional advice.